WP1000/1100 Products features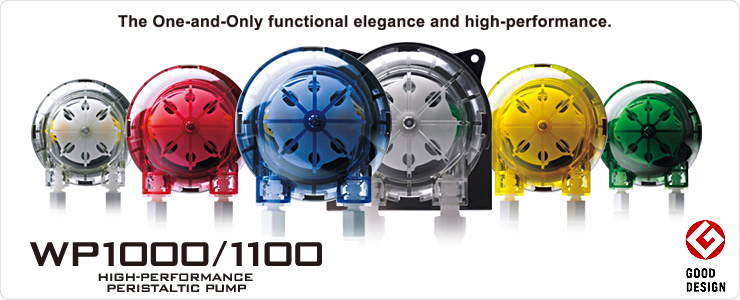 High-performance concealed in a simple and smart design.
Enables one-touch mounting without using tools
Easy setting mechanism

Performing the specified shape processing on the mounting parts enables an all-in-one "easy setting mechanism", which can be mounted merely by inserting the main unit into the base. The unit can be fixed without using other parts or tools.






Pump for large flow-rates added

to the WP1000 series

In response to customer requests, we have added the WP1100 model that maintains the same basic design of the WP1000 series but is compatible with tubes of inner diameter 6.4mm (1/4"). The WP1100 supports flow rates of up to 700 mL per minute and the use of various types of tube materials.
(The dimensions and shape are different from those of the WP1000.)



The angle can be adjusted freely while the base is kept mounted

Free mounting mechanism

Even after mounting, the cassette alone can be adjusted freely through a 90º angle, increasing design flexibility.
New mechanism for "Cassette Lock Function"
when operating to both CW and CCW directions.
(optional parts for WP1100 series only)
We have added parts, to avoid falling away of the cassette from the pump body, when operating the pump to both directions is required. You can unlock/lock the cassette at your finger tips.
Maintenance without using tools
Handy mounting mechanism
A "handy mounting mechanism", which applies a bayonet configuration (that is also used in mounting and removing camera
lenses), is used in the base. As the cassette can be mounted and removed manually without using tools, maintenance such as tube replacement can also be performed speedily.
Color variation

A 5-color lineup: Different colors can be used to identify different liquids.